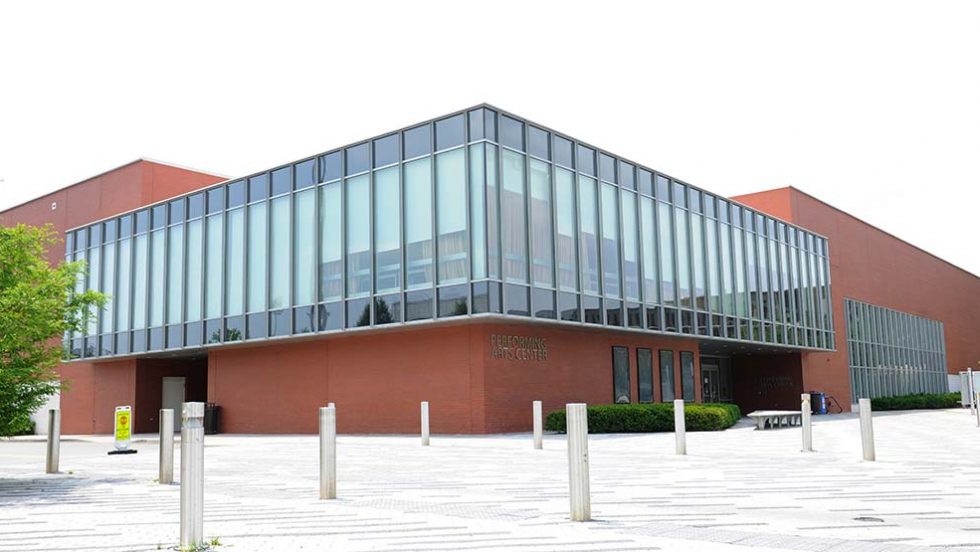 After a year-plus of performances with virtual audiences, the Adelphi University Performing Arts Center (Adelphi PAC) is returning to a roster of in-person performances with live audiences this season. Although all are in person, a select few events will also have a livestreaming option.
Axiom Brass: Friday, September 24
Kicking off the fall season, award-winning brass quintet Axiom Brass will return to the Adelphi PAC for the first major concert of the season on Friday, September 24, from the Westermann Stage in the Concert Hall at 7:30 p.m.
Axiom Brass is internationally recognized for its groundbreaking programming and repertoire, ranging from jazz to Latin music to original compositions for brass quintets. Its captivating performances have led to national radio and television appearances as well as concerts in Asia, Europe and across the United States.
Tickets for the Axiom Brass concert cost $30 each.
Larson Legacy Concert: Saturday, September 25
Award-winning writer and composer Benjamin Velez takes the stage on Saturday, September 25, for the first event in the season's Larson Legacy Concert Series. Velez's performance will be live from the Olmsted Theatre and there will be a livestream as well starting at 3:00 p.m.
Velez is a Jerry Harrington Award for Creative Excellence winner. He was the writer of the 114th annual Columbia University varsity show, Morningside Hates, and his original musical Afterland was workshopped at the Yale Institute for Music Theatre in 2014 and had a reading at the York Theater in 2016.
The Larson Legacy Concert Series is in honor of the late Pulitzer Prize-winning writer and composer of Rent, Adelphi alumnus Jonathan Larson '82. Tickets for the Olmsted Theatre performance cost $25 and tickets for the livestream are $15.
Plays, Magic Shows, Concerts and More
Other performances lined up for this season will include a performance of Sarah DeLappe's play The Wolves, which will run from Tuesday, October 5, to Sunday, October 10, in the Black Box Theatre, and Sense and Sensibility, an adaptation by Kate Hamill of Jane Austen's novel, from Tuesday, November 2, to Sunday, November 7, in the Olmsted Theatre. There will also be a performance by magician Mike Super on Saturday, November 13, and a concert by the Greater Nassau Chorus on Sunday, November 14. Tony Award nominee Norm Lewis will return to Adelphi on Friday, December 17, for his performance of Norm Lewis: I'll Be Home for Christmas.
Patrons of these events will be required to wear masks at all times while inside the Adelphi PAC. They will also have to show proof of vaccination or a recent negative COVID-19 test for admission. The audience at the Adelphi PAC will be limited to 50 percent capacity. These requirements are subject to change throughout the semester based on the latest local conditions and guidelines from the Centers for Disease Control and Prevention (CDC).
The Adelphi PAC is one of Long Island's premier cultural arts venues for entertainment of all kinds. For more information and to purchase tickets, visit adelphi.edu/pac.