Students interact directly with patients at the Hy Weinberg Center for Communication Disorders—one of many spaces on campus where students have real-world experiences in their major.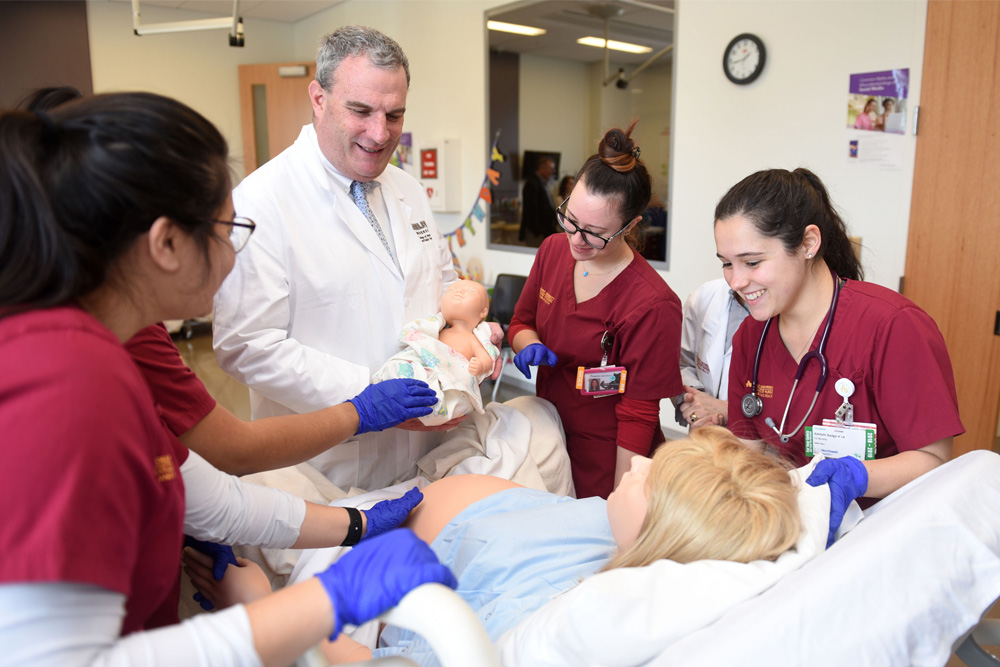 Victoria, Adelphi's new state-of-the-art childbirth manikin, is just the newest addition to the growing number of hands-on learning opportunities Adelphi provides students right on campus; including those in the Hy Weinberg Center for Communication Disorders (see photo inset), the James Riley, Jr. Trading Room, and the Alice Brown Early Learning Center.
The newest of our high-impact experiences, the manikin can simulate a complete range of situations that nurses may face in the delivery room, from routine neonatal care to obstetric emergencies.
Victoria arrived in the nursing simulation lab in March and was welcomed with an end-of-the-month birthday party. The first of its kind used in nursing programs on Long Island, the manikin is incredibly realistic. Her eyes can even focus on the student nurses, giving them the ability to assess eye movement for signs of stroke, head trauma, drug use and other conditions.
The manikin has two babies, each designed for different scenarios. Together they provide training in managing complications like shoulder dystocia, umbilical cord prolapse, breech delivery and postpartum hemorrhage.
Victoria joins the highly sophisticated pediatric, newborn, child and adult manikins already in place in the 22-bed simulation lab, which is located in Adelphi's Nexus Building. The training students gain in the lab is extremely important, as it not only supplements and enhances their required clinical hours but provides experience in situations they may not encounter in their rotations in healthcare facilities.
"These devices can simulate about any situation that healthcare providers face in the real world," said Anthony Egan, assistant director for faculty support in Adelphi's clinical education and simulation lab.
In addition, coming this fall, Adelphi will open its planned Innovation Center, a hub for collaborative projects with local industries and a launching pad for student-designed businesses and organizations.
---
For further information, please contact:
Todd Wilson
Strategic Communications Director 
p – 516.237.8634
e – twilson@adelphi.edu