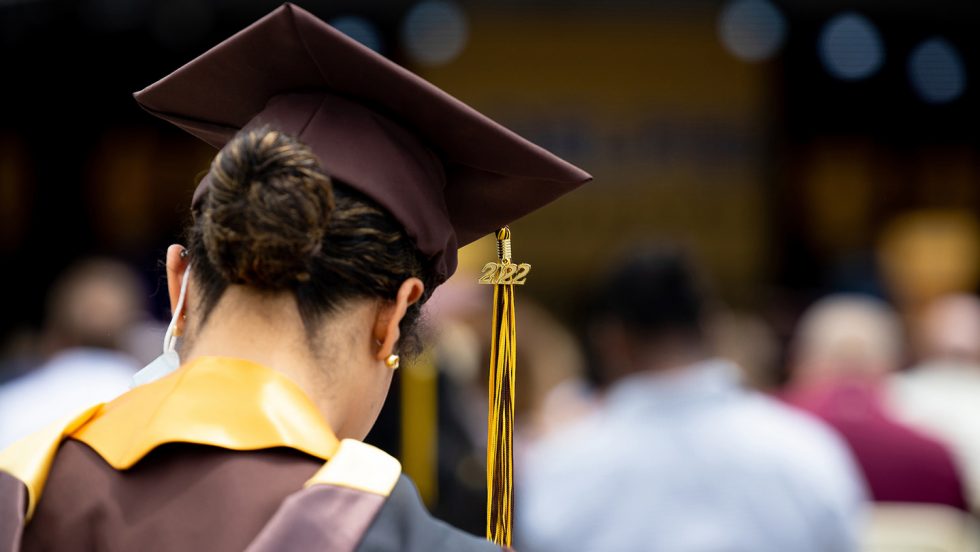 Dear Class of 2022,
Adelphi's 126th Commencement is Monday, May 23—and we can't wait to celebrate you and all you've achieved.
Important information you'll find in this email:
COVID-19 precautions
What to expect at Commencement, from beginning to end
Dressing for Commencement
Getting to and around Commencement: transportation, parking and accessibility
Livestreaming details
COVID-19 Precautions
Last week, the Centers for Disease Control and Prevention (CDC) elevated the COVID-19 community transmission level in our area to HIGH. We strongly encourage masks for all attendees of the Adelphi University indoor Commencement ceremony. Should Nassau County announce an indoor mask requirement for the Nassau Veterans Memorial Coliseum, masks will become mandatory for all Commencement attendees.
What to Expect on Commencement Day
Enter the Coliseum through the VIP entrance, using your GradPass, by 10:45 a.m. Your guests will enter through the main entrance, using the tickets you received by email. Make a plan before entering about where you will meet up outside after the ceremony. Please do not bring valuables or other belongings with you.
You will be directed to the Expo Center on the lower level, where you will be organized by your school or college, which is listed on your GradPass.
The ceremony will begin promptly at 12:00 noon, at which time you will process onto the floor of the Coliseum and take your seat in the order you marched in.
When it is your turn to cross the stage and be recognized, Commencement marshals will guide you on when to stand up, where to line up and when to proceed across the stage.
Be sure to have your GradPass with you, as it will be scanned before you take the stage. Scanning your GradPass ensures that your name will be read at the correct point in the queue and pronounced correctly.
Before you cross the stage, you will receive a diploma cover, pause for a photo and walk off the stage. Due to continued health and safety concerns, there will be no handshakes.
The Commencement photographer will take your individual photo, after which you will return to your seat as guided by a Commencement marshal.
Remain seated for the duration of the ceremony out of respect for your fellow graduates. When the ceremony concludes, at approximately 4:00 p.m., you will be directed by marshals to exit in a recessional.
Dressing for Commencement
We are aware of the delays some of our graduates have been experiencing in receiving orders of academic regalia and have been working to secure a commitment from our vendor for delivery prior to our upcoming ceremonies. We have been informed by our vendor that orders will be shipped no later than May 19, with next-day delivery.
Academic regalia—caps, gowns and tassels—are required for graduates at Adelphi's Commencement ceremony. You should arrive at check-in completely dressed in your regalia.
Questions about academic attire should be directed to the bookstore at bookstore@adelphi.edu.
Not sure how to wear your regalia? Check out these videos for undergraduate and  graduate academic attire.
Getting To—and Around—Commencement
There is no fee for parking at the Coliseum for Adelphi's Commencement.
Those traveling by public transportation may wish to utilize the Adelphi-provided shuttle service for Commencement from the Hempstead Transit Center. See our Commencement website for details.
The Coliseum has clearly marked sections for Americans with Disabilities Act (ADA)-compliant and wheelchair-accessible seating for your guests. These sections are limited to one companion per guest who requires accommodations.
ADA-compliant restrooms are located throughout the Coliseum concourse and in the lower lobby, and an elevator near the main entrance allows access to the lower level Expo Center for student lineup and procession.
Livestreaming Details
Adelphi's 126th Commencement will be livestreamed—the link can be found on our website at adelphi.edu/commencement/watch.
As always, a great place to find answers to your questions about Commencement is our Commencement website or through our chatbot, Adele. You can also reach out to us any time at commencement@adelphi.edu.
We'll see you on Monday, May 23!
Sincerely,
Cara Terzulli, MPA
Deputy to the Provost
Commencement Co-Chair
Kaitlyn Woods '12, MBA '15
Senior Associate Director of Special Events and Engagement
Commencement Co-Chair