The Adelphi Breast Cancer Program is the recipient of a grant from the Beth C. Tortolani Foundation which allows the program to provide free social work services to ensure that underserved women are able to overcome barriers to care
News from the Adelphi NY Statewide Breast Cancer Program
June 20, 2018
Contact: Lyn Dobrin, 516-997-8545
The Beth C. Tortolani Foundation Helps Provide Counseling and Support for Low-Income Breast Cancer Patients
The Adelphi Breast Cancer Program is the recipient of a grant from the Beth C. Tortolani Foundation which allows the program to provide free social work services to ensure that underserved women are able to overcome barriers to care. These services include bilingual counseling and patient navigation for breast cancer patients treated at local hospitals and provide referrals to community agencies that provide assistance such as food, transportation and legal services. The grant also helps to facilitate a Spanish-language support group, called Cafecito, held twice a month in Westbury.
"Our licensed social workers offer free bilingual counseling to breast cancer patients treated at Nassau University Medical Center (NUMC) as well as those referred from other local hospitals," says Reyna Machado, assistant director of the Adelphi Breast Cancer Program.
In addition to the hotline—800-877-8077—the Adelphi Program offers a live chat with a licensed social worker, support groups in English and Spanish and referrals
to free or low-cost mammography screening.
The Beth C. Tortolani Foundation supports and organizes programs and services, which provide resources, knowledge and skills to women with breast cancer and their families in order to enhance the quality of their lives. 
End
Photo: Reyna Machado (left), Adelphi Breast Cancer Program assistant director, receives check from Terry DeLauro, administrative director of the
Beth C. Tortolani Foundation.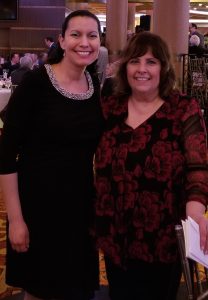 ---
For further information, please contact:
Todd Wilson
Strategic Communications Director 
p – 516.237.8634
e – twilson@adelphi.edu