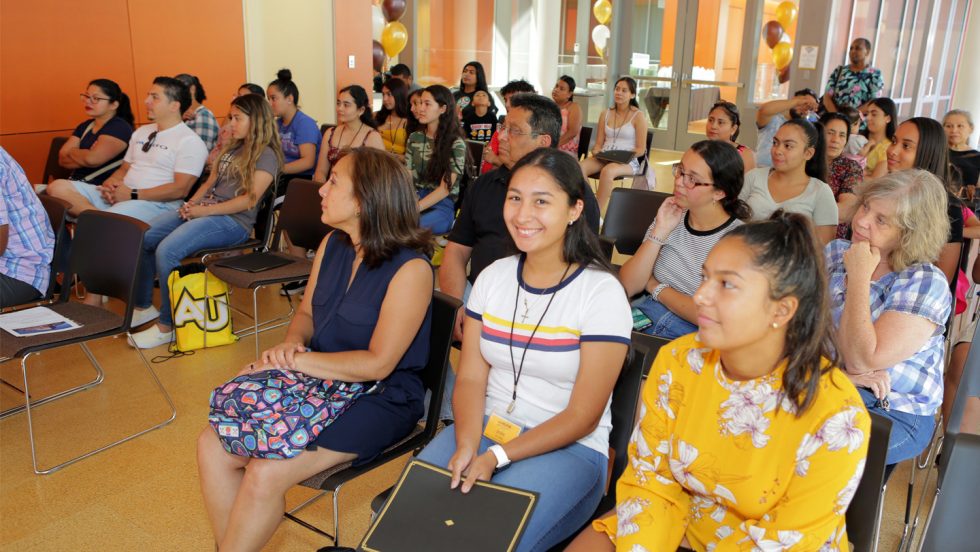 As a student in Valley Stream Central High School, Jolie Correa compared colleges, weighing which to attend. She made her decision to enroll in Adelphi after participating in Adelphi's Hispanic Community Partnership Program (HCPP) in the summer of 2019. The inclusivity Adelphi offers made it stand out from the competition.
"I like the idea of an educational experience for the Hispanic community—and the support we received," Correa said. "I feel like the Hispanic community is easily forgotten about."
In addition to showing Correa the diversity Adelphi has consistently made a priority, this program also made her college planning process a breeze. "It was really helpful. It gave me a sense of how everything should run," she said. "The Hispanic Community Partnership Program taught me how to shift from a high school state of mind to a college one."
Correa enrolled as a nursing major and joined the Adelphi community this fall.
This annual preview of college life is particularly important for the Hispanic students participating in the program who will also be the first in their families to attend college. "The goal was for our students to build a community of peers and to leave the program with a sense of clarity on what steps are needed to pursue higher education with more confidence and be more aware of what resources are available to them," said Estefania Zea, project manager in the Office of Diversity, Equity and Inclusion and the students' key contact for the program. "We also shared the financial benefits the program has to offer if any of the students choose Adelphi."
Hispanic Community Partnership Program Goes Online for 2020
In August 2020, the number of students doubled from 17 to 34 students, all of whom attended online.
Due to New York's Stay at Home Order to prevent the spread of COVID-19, students could not spend three nights in campus residence halls or take a cultural trip to New York City. Instead, students participated in a virtual campus tour, a virtual scavenger hunt, a closing ceremony certificate-sharing video, a group photo, raffle prizes and a game to get to know one another. They attended virtual workshops on "Navigating the College Application Process" and "Financial Literacy for Higher Education."
"We tried to keep each day engaging and used the poll feature in Zoom as a way to ask the group questions and stay connected," Zea said.
Zea, who welcomed the students every morning and reviewed and managed each day, said working with the students was the most rewarding part of her HCPP role.
The same mix of information and fun will be part of the summer 2021 Hispanic Community Partnership Program.