Paralegals play a highly important role in the legal industry, assisting attorneys with everything from legal research and writing to source citing, filing and communication with clients.
To be successful, paralegals must have a fundamental understanding of the substantive and procedural elements of specific areas of law. Whether you're planning to apply for your first paralegal position, or you're looking to move to a different practice, the knowledge and skills you can pick up in a professional certificate program can help distinguish you from other applicants and ensure that you'll hit the ground running in your new position.
Certificate Program Information
This six-month online self-paced program offers an in-depth view of the role of paralegals, exploring the different areas of law as well as the specific area you're interested in. It will also explore the various ethical considerations that may arise in the workplace, and the reference sources that paralegals turn to for information every day. The course will also offer an overview of traditional state and federal courts as well as the implications and uses for alternative dispute resolution.
Optional Volunteer Externship Opportunity
Learners who complete this program can gain valuable hands-on experience in an optional volunteer externship opportunity with a local company/agency/organization whose work aligns with this area of study. As learners progress through their e-learning program, an externship coordinator will reach out to set up placement. Note: Additional documentation, including health records, immunizations, drug screening, criminal background checks, etc., may be required by the externship facility.
Program Details
This program also offers learners a comprehensive understanding of professional responsibility in the legal field and how these laws apply to paralegals, specifically. In addition to the general legal ethics concepts presented in the program, learners will research individual state professional responsibility rules as they apply to the overall field and to the paralegal role. Upon completion of this program, learners will be able to recognize ethical issues, categorize them and research the possible solutions to the issue. Other areas discussed include legal research and writing, criminal law and procedure, tort law, contracts, property law, family law, estate planning and probate, business law and several other vital areas of importance.
Course Dates:
The program is self-paced, with all content online. Start anytime. Take up to six months to complete.
Cost:
$1,699
Who Will Benefit:
Those interested in entry-level jobs as a paralegal professional
Individuals seeking to further a career in the legal world
Certification Opportunities
After completing this program, learners will have the opportunity to take the leading national/industry-recognized certification exam(s) essential to entry-level employment in this fast-growing field.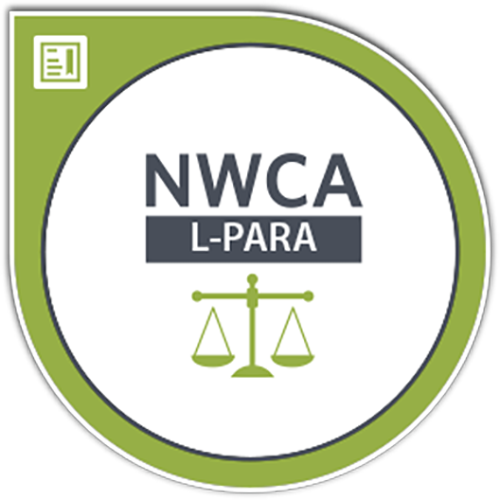 National Workforce Career Association (NWCA) Paralegal Professional (L-PARA)