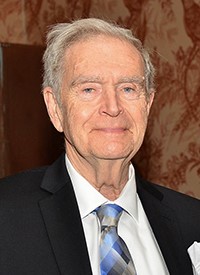 For 55 years, John Dooher served Adelphi University as an educator, a leader and a researcher.  He was educated at Stevens Institute of Technology, earning a Bachelor of Engineering in 1960, MS in Physics in 1962 and PhD in Physics in 1965. He joined Adelphi upon completion of his doctorate, and in 1976 rose to the rank of Full Professor. He served the department on three occasions for a total of 10 years as chair (1990–1992, 1998–2002 and 2015–2018). He also provided leadership at the broader University level, serving as chair of the Adelphi Faculty Senate from 2006 to 2008. Dr. Dooher was also very involved in the Environmental Studies Program of Adelphi.
Decades of Adelphi physics and environmental engineering students had the benefit of Dr. Dooher's teaching. Whether teaching relativity or thermodynamics, he brought a welcome mixture of deep knowledge and clear passion for the material. Once students cracked the code of his handwriting, they were drawn into an exciting journey into the finer points of physics.
While his career included research in many areas—from nuclear and high energy physics to nanoparticles—Dr. Dooher dedicated the bulk of his career to clean energy research. In 1978 he founded the Adelphi Research Center, of which he served as executive director throughout its existence until 1987. The center served as a base of energy and combustion research. He later founded the Dooher Institute of Physics and Energy to continue the focus on such research, as well as serving as director of Adelphi University's Energy and Environmental Research Programs.  These efforts resulted in millions of dollars in funding from federal and state agencies as well as industrial partnerships. His work in clean energy led former Adelphi President Robert Scott to have Dr. Dooher join in a conversation on climate change in the television series Exploring Critical Issues in 2014. With a very large fraction of the earth's energy still coming from coal to this day, he recognized that while development of alternative energies could drive the future, work on lessening the environmental impacts of coal is an immediate and critical need. He remained very active and successful in energy research for over 40 years, publishing his work on coal and biomass gasifiers as recently as 2019.
Among his many accolades, Dr. Dooher earned royal recognition, receiving the Ying of Balquhain Baronial Prize in 2000 and the Knight Commander Award from the Barony of Balquhain in 2014.  To those who knew him as a professor, colleague or friend, though, the honor was all ours.