Classroom Innovation During the Pandemic
Since the start of the COVID-19 pandemic, just about every aspect of our daily lives has changed, including the way we pursue education. For the Adelphi University Physics Department, innovation has been key to achieving success for students in the classroom and labs.
When you think of attending a lab class, you probably picture walking into a room with long tables where you'll work with a partner to conduct experiments. Due to COVID-19 precautions, lab classes have had to run differently this semester. Physics department lab director James St. John has had to "throw the handbook out the window" and redesign how the lab component for physics classes would work.
"We're trying to hold as many classes in person as we can, while doing it as safely as we can. So, we figured we could do them outside," said St. John. These outdoor labs had to be performed earlier in the year while the weather was still nice. About half of the labs were designed to be done outside in a socially distanced manner and the other half are set to be carried out online. Every lab has also been written to be done completely online if necessary.
Previously, the traditional Physics 1 lab manual concentrated heavily on using Excel and other gadgets like photogates and air tracks. Now, by stepping away from the traditional lab setup, experiments can be broken down for students to grasp a more basic understanding of what they are doing in the lab. Calculations can no longer be done automatically using a computer.
"The best way we found to measure data was to use a slow motion video on smartphones and, because you can use different apps, you can determine the time difference between frames instead of actually having to count. The frames just make it a lot more convenient," said St. John. The "Hudl Technique" app is an app meant for athletes to use to analyze their forms, but has been great for the labs.
For example, the first lab of the semester used the app when students walked along a 10-meter path and had to determine their position. Students had to determine how fast they were walking, while also recreating different graphs. "They are trying to recreate a position graph. So they have to be at the five-meter mark this amount of time and then at the 10-meter mark after a certain amount of time and passed and stuff like that; then they had to numerically figure out what the derivatives were," said St. John.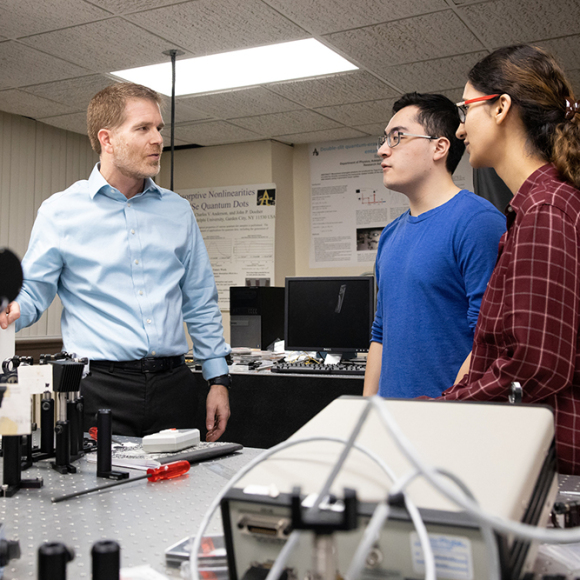 The first lab is usually done by dropping a picket fence through a photogate, which does the same calculations. The idea is exactly the same: a certain amount of time is passing between the picket fence falling through the photogate. Now, instead of the computer just figuring out the velocity and acceleration, the students do that work and really understand.
St. John said that when he took Physics 1, he wasn't totally sure about how the computer generated the graphs, but now, after constructing these labs, he has a better understanding. "It's like I went through a small learning curve after doing it," said St. John. "I know the students are definitely getting the same thing, and can hopefully articulate better how velocity and acceleration are connected back to position, rather than kind of just the computer doing it for them."
St. John added, "That's been the main point I've been trying to achieve: getting the students to really connect all the basic principles that we kind of gloss over sometimes in the lab."
Professor Sean Bentley has also seen some students gain a better understanding of physics concepts during innovative learning during the pandemic. "I have found that more students prefer in-person classes than not," said Bentley. "I've set up my classes to have a regular, live lecture at a certain time and then have times when students can come to solve problems."
Bentley found that using an asynchronous mode of teaching over the summer was a good option. "Usually students come to class for two hours a day for five weeks. It is a lot," said Bentley. "Asynchronous learning allowed students to go at their own pace, which was beneficial for many of them."
Bentley has started conducting exams in a different way, too, due to online learning. Rather than give written exams where students can easily access the internet and academic honesty may not be maintained, Bentley has started assigning projects and giving oral exams. Now, students have to convey that they fully understand the concepts they are learning and be able to discuss them rather than memorize formulas for an exam.
After the switch to COVID-friendly learning, Bentley has experienced more students coming to office hours. "Before the pandemic, the number of students coming to office hours was dwindling," said Bentley. Office hours can be online now, making them more accessible to students. Bentley explained, "Some students can't make it to office hours because they have work or have to commute back and forth to Adelphi. Now, they can hop on the computer from wherever they are for as short as 10 minutes and ask questions."
Bentley also said that missing class now isn't as big a deal. Students can watch recorded lectures and understand what they may have missed. However, he acknowledged that videotaping lectures has had some challenges. "I don't feel as free when I'm lecturing and I can't move around as much because I'm worried about blocking the screen and the sound quality," said Bentley.
There have also been some technical difficulties in the lab, according to St. John. "I think there's definitely a little bit of frustration because there have been a few shortcomings of the design of the labs that were made over the summer. Most of the time, it's those things that we wouldn't have seen until we kind of went through a trial run," said St. John. "You can't blame yourself entirely, but sometimes it's just a little bit of lack of preparation. Sometimes we know what we're doing, and then, all of a sudden, we realize the week of the lab that it's not totally fine-tuned; like it's unclear exactly what the directions are asking."
Despite potential technical difficulties, Bentley knows that we have to work with what we have available to make the learning experience as good as possible. "The truth is that with the current climate and rate of population growth, pandemics will likely soon become more frequent," he said.