Individualized attention through intensive academic coaching.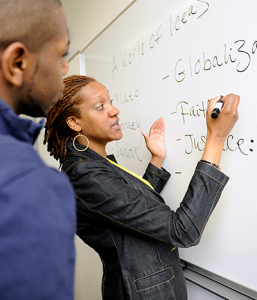 Given their intellectual potential for college-level work, General Studies Learning Community students often gain by strengthening their basic academic skills: critical reading and writing; problem-solving; studying; taking tests. To aid them in developing these abilities, faculty academic coaches work diligently with students. On entry to the program, all General Studies Learning Community students are assigned for coaching.
Recognizing that the psychological and emotional lives of young men and women play an important role in determining academic success, General Studies Learning Community mandates participation in counseling sessions, conducted by full-time academic counselors who can help students make the adjustments that college life demands.
Faculty and Academic Coaches
Marissa Cusa teaches problem-solving. She earned an MS from Molloy College in 2015 and teaches math at H. Frank Carey High School. She is particularly skilled at working with students who consider themselves to be "math resistant." She is student-centered and possesses an ability to make math relatable to students.
Sarah Eltabib is completing a doctorate in history and an MA in International and Comparative Government from St. John's University. She teaches the World of Ideas and Western Civilization I and II.
Lauren Rosenblum holds a PhD in English from Stony Brook University and an MA from New York University. She writes about the intersections between literature, visual culture, and feminism, and she also publishes on approaches to interdisciplinary college-level teaching. Her classes include Expository Writing, Critical Reading and Writing, the World of Ideas, and as well as classes on English literature and modernism.
Nathan Ross holds a PhD from DePaul University. He writes on political philosophy, philosophy of art and history of philosophy, as well as faculty career development and teaching . His classes include Western Civilization, World of Ideas and various classes in philosophy. 
Deseree Wiltshire '00, MA '05, an Adelphi alumna, teaches General Psychology and works in the New York State mental health system. An accomplished dancer, she has been teaching in the General Studies Learning Community since 2009. Currently pursuing her doctoral studies.
Academic Counselors
Karen Lopez '12, MSW '13, is an alumna of Adelphi and of the General Studies Learning Community. She has had substantial experience working with students, youth, and families in Nassau County.
Ashley Vasquez '13, MA '15, is an alumna of Adelphi and of the General Studies Learning Community. She is a Licensed Mental Health Counselor (LMHC) who has previously worked with the Bridges to Adelphi Program and the New York Psychotherapy and Counseling Center treating children, adolescents and adults.