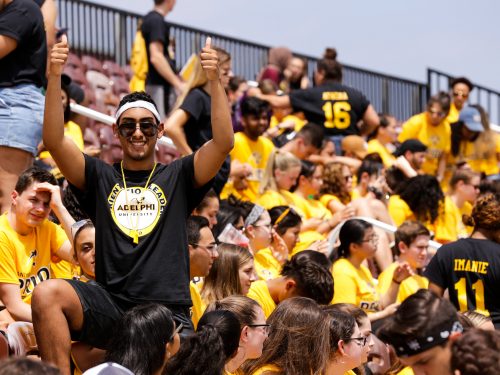 We are so excited to welcome our newest Panthers to Adelphi. This summer's orientation for new students will include everything you need to prepare for life as a Panther. Your summer orientation experience will include an on-demand module, an Academic Connections event, and a culminating orientation experience during Welcome Weekend for you to meet your fellow Panthers and get to know the Adelphi community.
Panther Portal: The On-Demand Orientation Experience
Beginning in June, new students will receive information about how to access the on-demand orientation experience that will allow you to learn all about Adelphi's academics, support services, student life, campus safety, and financial aid.  This module will be available for you to explore and complete at your own pace throughout the summer.
Academic Connections
In July, we invite our new Panthers to join us for an Academic Connections events.  This program will give you the opportunity to meet faculty, staff, and students with academic interests similar to yours and learn all about the Adelphi academic experience. 
August Orientation & Welcome Weekend
At the end of August, we plan to invite our newest Panthers to campus for their official in-person orientation and Welcome Weekend experience.  Due to the evolving nature of public health regulations and guidelines, more information about these orientation experiences will become available in the coming months.
All incoming new students are encouraged to check their emails regularly as new updates regarding orientation and registration will be sent throughout the spring.